Firefly Thermal Cameras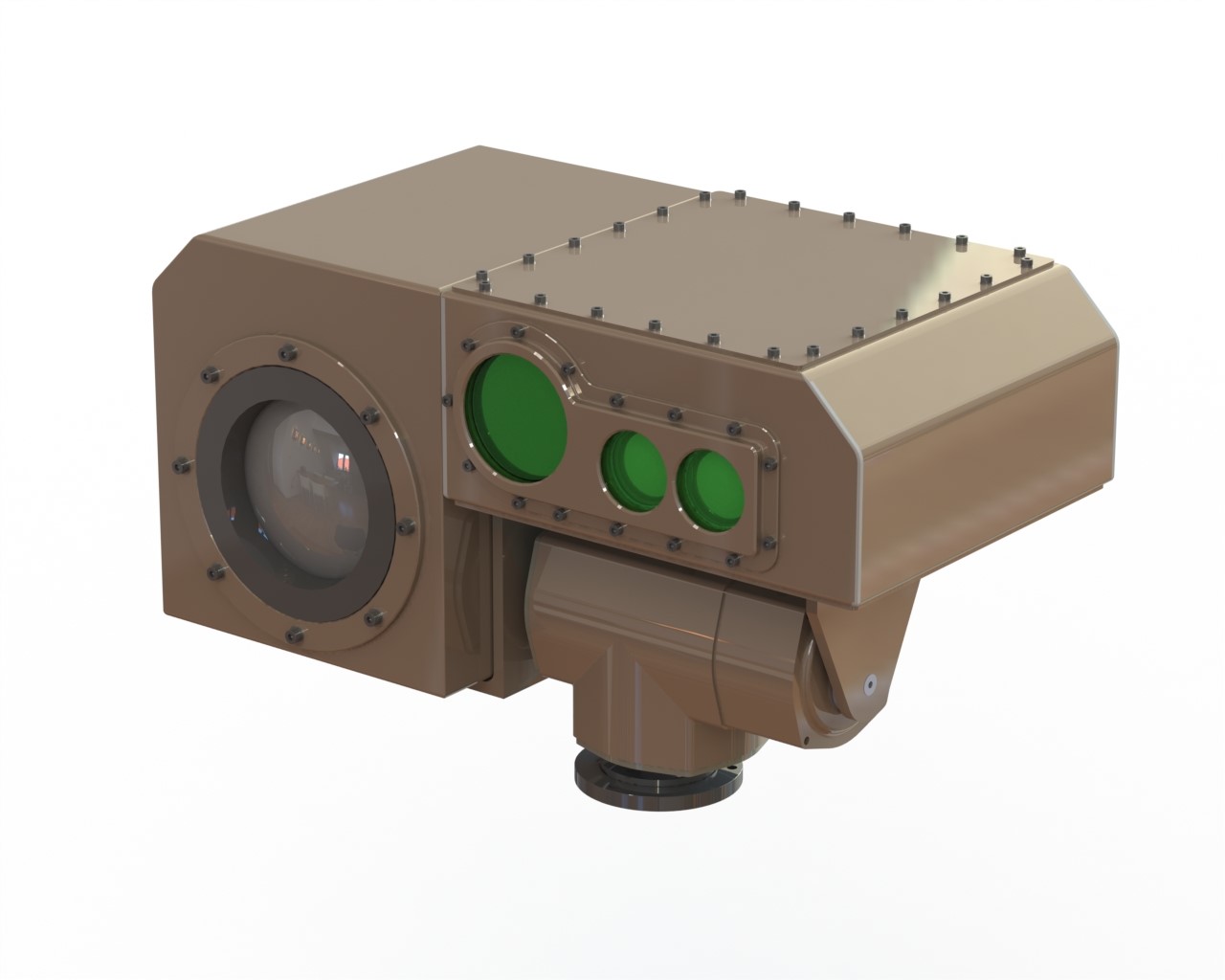 FireFly® CMSLRF01
ER1,ER2 ER3 (extended range)
Compact Medium Range Multi Sensor Visual/Thermal Camera Head with Laser Rangefinder and Pan/Tilt
The FireFly® CMSLRF01 is a multi-role Video Camera/Thermal Imager/ Laser Rangefinder camera head system with an integrated pan/tilt unit in a compact package which can be used for Border Surveillance, Mast Mounted Systems, Vehicle and Shipborne applications.
Extended Range Versions provide Thermal Imager performance
increase over the standard fixed version and zoom lenses can also
be supplied for ultimate performance.
Featuring a high sensitivity colour/mono zoom camera which will operate in starlight conditions combined with an uncooled thermal imager which in standard mode is 800 x 600 pixel resolution. Mounted coaxially with the sensors is a 4Km laser rangefinder. ER Versions operate at 640 x 480 resolution, under software configuration at time of manufacture.
The integral positioner (pan & t ilt)allows XY movement control with feedback.
For OEM integrators the camera/LRF head is available as a separate unit and as split modules
Control is by IP or separate serial data link.
A variety of control panels are available including a TeleCase option with built in Digital Video Recorder, 13.3" wide screen display and multi-picture display. Features include motion and crossing detection and alarm.
Stabilisation is also optional
The compact design and light weight package, enables use on a wide variety of applications e.g fast RIBs, offshore patrol boats, coastguard vessels, lifeboats, patrol vehicles, portable surveillance systems, base protection etc.
Features
30X Colour/Mono HD Starlight Zoom Camera
800 x 600, 17μm LWIR
Standard: 100mm lens ER1: 150mm
ER2: 30~180mm
ER3: 25~225mm
4Km Laser Rangefinder
Variable Speed Pan/Tilt
Thermal HFOV Standard:7.8º ER1: 5.2º
ER2: 3.5º
ER3: 2.8º
Optical Zoom 63.7º ~ 2.3º
Low Light
0.01 lux (Colour ICR ON) 0.0015 lux (Mono ICR OFF)
Sealed & Pressurised
Optional Electronic Reticle
Designed for medium range surveillance, radar boresight, targeting applications
OEM systems integration
Specifications
C-Band Analogue
Sensor Camera
Type:
1/12.8" Backlit CMOS. CMOS Total sensor pixels 2.13MP
Lens:
4.3 ~ 129mm, 30X. Presets
Field of view (H)º
63.7º ~ 2.3º
Systems:
HDTV 1080P 1920 x 1080, 1280 x720 Analogue CVBS
Sensitivity:
Colour:
0.01lux (ICR On)
Monochrome:
0.0015lux (ICR Off)
Video Compression:
H.264 BP/MP/HP, H.265 main profile, MJPEG
Functions:
Infra Red Cut Filter, 3D Noise Reduction, Defog Setting, Auto/Manual White Balance, Electronic Shutter, Auto/Manual focus. Up to 12x digital zoom
Alarm:
Motion detection,
Thermal Imager
Type:
LWIR Uncooled
Lens: Standard: 100mm F1.1. Motorised Focus Digital Zoom (2x, 4X)
Resolution:
800×600. 17µm software confurable
Extended Range1: 150mm F1.6. Motorised Focus (640 res)
Sensitivity:
<40mK
ER2          Zoom: 30-180mm, F1 ~ F1.2 Motorised Zoom, Focus (640)
ER3 Zoom: 25-225mm, F1.2 ~ F1.5 Motorised Zoom, Focus (640)
Laser Rangefinder Option:
Type:
Eyesafe, 905nm. Class 1
Type: Eyesafe, 905nm. Class 1 Range: 4kms vehicle. 3kms man
Power:
>10mJ
Resolution: 1m
Rate:
1Hz
Rate: 1Hz Laser Divergence: <2mR
Data:
Serial output and control
Data: Serial output and control Spot Size at 1000m: 50mm
Pan/Tilt Unit (alternatives available)
Payload:
>6Kg
Speeds: Pan: 0~30º/sec Tilt: 0~10º/sec
Operating Angle:
Pan: ±185º Tilt: +30º ~ -90º
Control: Serial data, built in controller. Presets
Range
Person/Vehicle
Detection
Recognition
Standard:
Day/Night Sensor
10.3km / 31km
2.6km / 9.3km
Standard
Thermal Fixed (100mm)
4Km / 9km
1.5Km / 3.5km
ER1:
Thermal Fixed (150 mm)
6Km / 13.5km
2.3Km / 3.4km
ER2:
Thermal Zoom (180mm)
7km / 16Km
2.7Km / 4Km
ER3:
Thermal Zoom (225mm)
9km / 20Km
3.3Km / 7.7Km
Options
Automatic Target Tracking using Charm Video Processor Built-In
Extreme Environment 850nm IR LED Illuminator (500m) (940nm available)
Environmental
Shock:
Half sine wave, 30g,pulse length 6ms, 3X in direction of mount
Vibration:
10Hz~40Hz,0.015g2/Hz;40Hz~500Hz,0.00015g2/Hz; Rms:1.04291g,5min,Xaxis
Operating Temp:
-30°C to +60°C
Storage Temperature: -30°C to +70°C
Environment:
IP66
Mounting: Top, Bottom, Side at time of order
E&oe