CAMC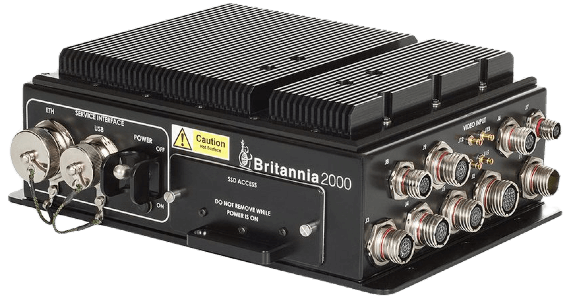 CAMC
The Compact Airborne Mission Computer (CAMC) is a highly effective airborne mission control and information system that is designed, built and supported in the UK by Britannia 2000 Holdings. CAMC is an ideal solution for helicopter, fixed wing, UAVs and other military vehicles and platforms where space, reliability and space are at a premium.
CAMC is optimised for Government and Military airborne requirements offering exceptional performance and versatility in a small package.
CAMC is fitted with a removeable Solid State Drive to store mission sensitive information, which can be securely stored away from the CAMC. The SSD can be used to upload pre-planned flight profiles as well as recording sensor, video and meta data.
Auxiliary inputs are provided to allow the user to integrate equipment such as a keyboard, portable computer or other USB or Ethernet peripherals. Multiple CAMCs can be networked.
A turret interface connection is provided to enable control of a turret via RS232/422 or Ethernet, and to receive video feeds from the turret via a dual Ethernet connection or coaxial video connectors.
CAMC can output video to 3 independent touchscreens allowing users to carry out tasks such as:
Record and Playback video
Navigate using mapping and augmented reality software
Operate the pan/tilt/zoom function of a turret whilst viewing the video feed
Further details are available on request
Features
Intel Core i7 3.4GHz Quad Core
KLV Metadata available
16GB DDR3 Memory
4 independent HD/SD video inputs
Auto detects Analog CVBS (NTSC or PAL), 720p30, 720p60, 1080p30, 1080p60 SDI
H265 Video Encoding
4K turret ready
Support for 3 touchscreen displays
Internal Gigabit Ethernet Switch
Embedded Windows 7
ITAR free
DO-160 Certified operating at full capacity
Multiple I/O for interfacing with wide variety of role equipment inc. turrets and radars, LIDAR etc.
Removeable SSD for mission planning recording and debrief
Robust and fan-less for silent operation.
Specifications
Video Standards
Video Channels:
4 channels
Encoding:
10bit 4:2:2. Ultra low latency encoding. H265 HEVC
HD-SDI:
720p30, 720p60, 1080p30, 1080p60
SD-HDI:
480i, 576i
Ultra HD:
4K
Analogue:
CVBS NTSC, PAL
Processor and Interfaces
Processor:
Intel Core i7, 3.4GHz Quad Core
Operating System:
Windows 7, embedded
Environmental and Mechanical
Temperature:
-20ºC ~ +50ºC operating
Dimensions:
340mm x 234mm x109mm
Weight:
7.8Kg
Power:
28vdc (Nom) 3.5A
Option:
KLV Metadata
Data sheets are subject to change without notice. Please conact the factory for more information regarding interfacing to mission equipment