60007 17.3" Airborne Display NVIS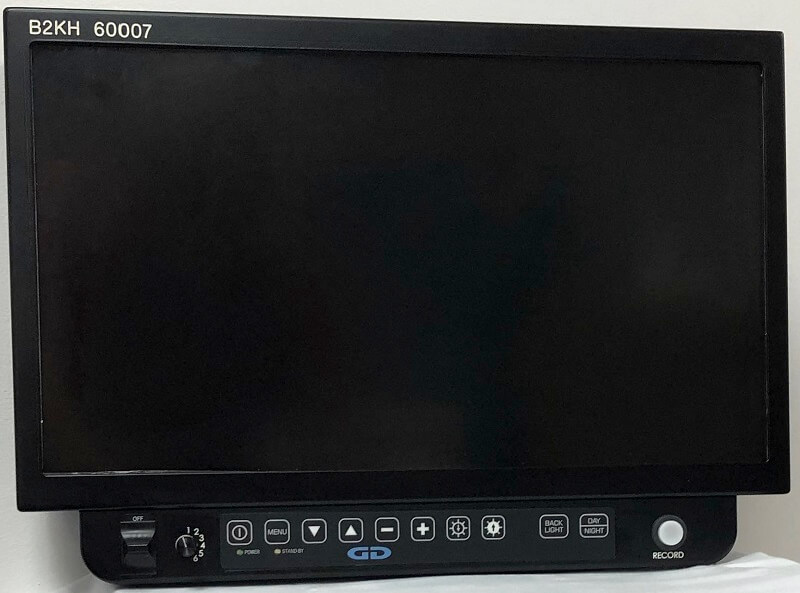 60007 Rugged SDI Video Monitor
4 input – various formats with NVIS display option
The 60007 HD display has been designed to meet a wide range of applications where various standards of SDI video, HMDI and even composite video are require to be displayed in a single monitor.
The output of the monitor is SDI format and is the mimic of what is displayed on the screen.
The inputs are 4 SDI video (any format) as standard but the monitor can accept permutations such as 2 SDI and 2 HMDI inputs or even 3 SDI plus 1 CVBS input depending on the configuration requested at time of order.
Standard options are Anti Glare Glass or PCAP touch screen panels, and a resistive touch screen option is also available.
The display layout is selected by a rotary switch, with any 4 inputs full screen, a quad display and inputs 1 & 2 displayed side by side. Other layouts are available – kindly contact the factory.
A remote record button with tell-back is included on the front panel to interface to the Britannia 60005 DVR.
The monitor power circuit complies with DO 160 requirements and is surge resistant. The standard unit operates from 28v nominal (16~40vdc).
A 100mm VESA mount is standard and a rack mount kit is available.
Britannia welcomes requests for custom options and the design enables us to incorporate personality modules to meet customer requirements.

Features
17.3" Full HD Display
Anti Glare Glass or PCAP touch screen options
Day/Night operation with NVIS white Class B.
4 SDI inputs as standard (any formats)
Option of a mix of SDI & HMDI inputs
Other input formats including CVBS as options
Built in multi-viewer with 6 layouts as standard.
SDI outputs of screen display 1080P 60 (others on request)
Surge protected and filtered PSU compliant to DO160
28vdc nom (16-40Vdc) with 12v option
Remote Record Button for DVRs
100mm VESA mount standard (optional rack kit available)
Low power consumption
Specifications
Display:
17.3" LCD, 1920x1080P/60 as standard
Full membrane control and OSD with multi-language:
English, French, Spanish, German
Hard ON/OFF switch
NVIS white class B compliant
Special functions:
Day/Night Mode select (max brightness 20 nits night/800nits day)
Backlight Kill
Rotary switch selection of display view format
Illuminated record button with tell back for integration to the B2KH 60007 DVR (or other external DVR on request.)
Signal
Video inputs:
SDI BNC (x4)
HMDI option
Composite Video option
Display port option
Video out:
SDI BNC (x2)
Analog audio I/O:
Line, LEMO 2B
Display Formats:
6 preset display views. Each input full screen, quad display and inputs 1 & 2 side by side centralised. Other patterns available -contact factory
SDI input format:
3 G-SDI, SMPTE 259/292/424
1080p – 23.98, 24, 25, 29.97, 30, 50, 59.94, 60
1080psf – 23.98, 24, 25, 29.97, 30
1080i – 50, 59.94, 60
720p – 23.98, 24, 25, 29.97, 30, 50, 59.84, 60
NTSC – 480i
PAL – 575i
Power
Input:
28v dc nominal (16 ~ 40v ), 50w (12vdc factory option available)
Environmental
Operational:
0ºC to +60°C (low temperature option available)
Relative humidity:
20 ~90% RH(non-condensing)
Shock and Vibration:
Designed to meet RTCO 160G
Physical
Size:
409 mm(w) x 290mm(h) x 75mm(d)
Weight:
6.2Kg 3mm toughened glass anti glare
5.2Kg with PCAP touch screen
4.5Kg no AG glass or touch screen ac
Ordering Information
Options
60007-01
Monitor with 4 x SDI inputs
/PCAP
(fitted with PCAP touch screen)
60007-02
Monitor with 3 x SDI + 1 x HMDI inputs
/LW
(no AG glass or PCAP)
60007-03
Monitor with 2 x SDI + 2 x HMDI inputs
/RM
(supplied with rack mount kit)
Accessories
600007-11  Connector kit (cable connectors for Video (BNC) Power (LEMO), Remote (LEMO), Audio (LEMO)

Custom
Contact factory for custom colours and various input or display view formats. Our designs are based on being able to provide exactly what is required for your application. Other screen sizes available.