60005 Airborne DVR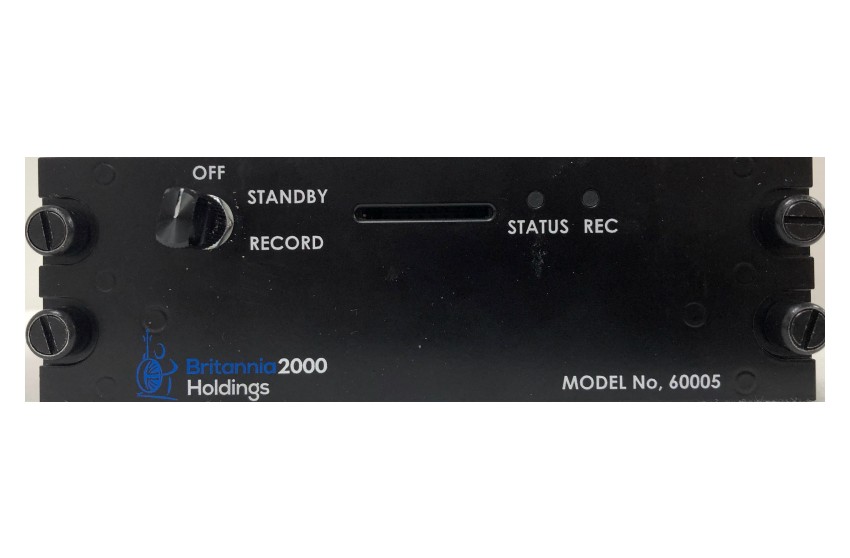 6000 5 Airborne Video Recorder
SD/HD SDI DVR using SD media
The 60005 DVR is the latest of a long line of airborne DVRs spanning 30 years.
It fulfils a requirement for a robust, compact, easy to operate, cost effective mission or archive video recorder with removeable media.
The DVR can be set to automatically record the SDI video from a turret as soon as power is applied. It provide continuous video/audio recording throughout the mission – independent from any other DVRs in an existing system in use by the operator.
A remote record functions enables an operator to initiate recording from the Britannia range of displays.
The DVR has a single simple rotary switch to select Off/Standby/Record. NVIS B LEDs indicate RECORD and Status.
The DVR accepts virtually all SDI video formats up to HD/3G and has loop through for connection to other equipment and optionally encode and stream the input video to other devices.
Removeable SD media with a maximum capacity of 256Gb enables replay after the mission using commercially available software. The factory default for the H264 encoding is high quality which is 10mb/sec. It can be set higher – up to 25mb/sec or lower – at the factory if required. The DVR also supports network video storage on an external drive.
Stereo audio is also recorded, either as part of the SDI stream or via external line connection.
To integrate to legacy systems we are able to provide a range of converters to enable compatibility to the SDI input.
Features
Small robust DVR
Suitable for mission archive
Replay SD media on commercial software
SDI input
Excellent quality recording
Loop through
Audio recording
MS25212 Military Rack fit
28v power (12v available)
Low power consumption
1 simple user control
NVIS B compliant
Low power consumption
Remote record input
Specifications
Signal
Video input:
SDI BNC
0.8v p-p, ac coupled 75W
Video looping out:
BNC SDI
Analog audio input:
Line, LEMO 2B
Format
Video Formats:
HD-SDI(1.485Gbps), 3G-SDI(2.97Gbps)
1080p23.98/24/25/29.97/30
1080p50/59.94/60
1080i50/59.94/60
720p23.98/24/25/29.97/30
720p50/59.94/60,
576i, 480i 525i(480i)/ 625i(575i)
Encoding:
H264 default setting 10Mb/s (256Kb-25Mb/s factory fit options)
Power
Input:
28v nominal, 5w (12vdc factory option available)
Environmental
Operational:
-20ºC to +60°C (low temperature option available)
Relative humidity:
20 ~90% RH(non-condensing)
Shock and Vibration:
Designed to meet RTCO 160G
Physical
Size:
MS25212 rack, 146mm(w) x 38mm(h) x 160mm(d)
Weight:
750g
Ordering Information
60005-01:
Standard DVR
60005-02:
Low Temperature option (-35ºC) with internal heaters
60005-03:
User defined encoding rate
60005-04:
12vdc option
60005-11:
Connector kit (cable connectors for Video (BNC) Power (LEMO), Remote (LEMO), Audio (LEMO)